Notes from TIPSTER 12 month Workshop

The following material is from the 12 month TIPSTER Workshop. Various study groups composed of attendees examined several areas related to TIPSTER and presented their conclusions to all attendees at the end of the workshop. These Report Outs are summarized below for the following areas:

---
Document Detection Report

Does commercial world benefit? Yes,
Info Seek, MatchPlus, Inquiry, Inktomi (Berkeley)
TREC Collection provides ground truth- that's the big contribution from TIPSTER
Does Government (IC) have unique needs? Yes.
leading edge requirements
strange formats
scaling/scaleability
multilingual
accuracy
recall (lawyers too)
heterogeneous environments
security
So, which should industry address?
Yes -worthwhile for vendors to address
for leading edge issues
for companies in that market
Maybe --
special requirements may be difficult for small companies, but large companies can do it?
No --
custom data formats, computing environments not relevant for many companies
Areas that need to be addressed in future:
speech front ended
multi-lingual
corpus and analysis
clustering
work on GUIs
detecting duplicates
info-objects
structured queries
mixed
What are some resources which researchers could use/need?
multi-dictionaries
speech corpus
classification corpus
language & query collections
Should we develop five-primary models? (are users too unpredictable?)
We need to develop other means of evaluating (in addition to precision and recall). No breakthrough if we continue to evaluate with only TREC.
How to change TREC to be more real world. Apply for "Innovative Funds"
Types of analyst; how they work
Some research should be using intelligence analysts.
Currently it takes analysts too long to search and fix.
Is new "Thinking Tool" category in tech strategy?
Commercial world is not there.
Interface matters and can be studied.
Need to identify types of tasks which users do. Ideally, have various kinds of modules to hook together in various ways.
Internet saturated by advertising.
Document Detection's Future
Application Areas
Retrieval Subtasks
Retrieval Effectiv eness
Speech

GUI
Interactive
Multi-lingual
Duplicate Detection
Query Analysis
Corpus Analysis

classification
clustering
TDT

n/a
n/a
OCR
n/a
Metrics for IR (not DR)
Video
n/a
Structured Quereies
Foreign Language
n/a
Common query language
Image
n/a
n/a
Spatial
n/a
n/a
Understand Application Areas
1. DB Entry
2. Summarization
3. Correlation among Event Types (Fusion)
4. Coding/Classification
5. IR - typed Information
Resources used in Document Detection
We love TREC!
Additional resources needed
multi-lingual dictionaries
speech corpora
audio, phones, text, queries
classification corpora
large query collections in multiple forms
---
Extraction Report
Research Areas
Basic System performance
Basic System Performance
Data Fusion
Portability - Critical
Critical Areas for Research Push
Portability
Adaptability
End User Training
Self-calibrating
Evaluation Is Driving Technology
Basic Technology
Fusion
Analyst Productivity
Government and Private Sector Very Similar Needs
Sub-language
Foreign languages
Applications in various basic areas
Ways to get evaluation to drive the research/technology
Portability
Adaptability
Self calibration
Basic system performance
Data Fusion
Portable
Depending on what you're extracting (domain) the techniques need to change
---
Multi-Lingual Report
No one addressing cross-lingual (industry seems more interested in one-to-one
Perhaps folks don't believe in cross-lingual (since MT hasn't worked)
At MT Summit - all wanted MT to "their" language
There is a need for training data
It was suggested we ask contractors to work up documents and send back
Could Lexis-Nexis customers work up documents?
Critical gap for Multi-Lingual is lack of training data
GVE Languages - about 12 are really important for CIA and NSA
Spend money on GVE
There is limited support for other than core languages
Ability to "ramp up" in "core language" would be really advantageous
There are 250 languages in which the Government desires capability
Is MUTT system used for MVC
Need a Text Widget which supports languages
Need auto and semi-auto bilingual dictionaries and OCR
Multi-lingual:
Text (Language)
Technology for many languages
Chinese to Chinese
Cross-Lingual:
Technology for examination/processing of texts in many languages, using different ones
English to Chinese
1. Current State of the Art
(a) Multilingual:

localization and interim
limited OCR support for "minor' languages
(b) Cross-language
MT Research
Current level of MT effort is limited, many unexplored areas
2. Timelines
What would be good:
(a) Better/wider MT research
(b) Better plumbing for minor languages
(c) Core language focus with rapid response capacity for 200+ "minor" languages.. but where do resources come from.
(d) Does this mean acquisition/learning is key?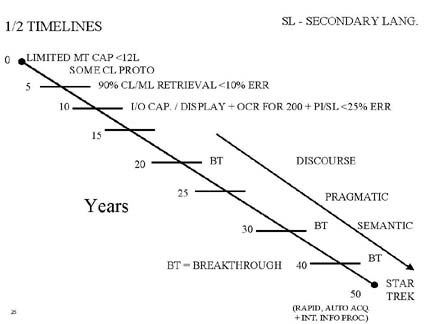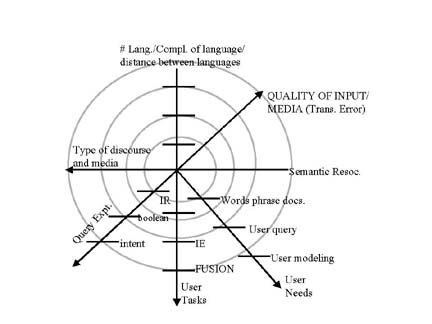 3. The Impact of this Technology? Quality?
(a) Need to examine the potential and real impact in the organization
How is this measured?
COTS?
Operationally?
Is poor quality rapid MT better than none at all? ....Yes (tentative)
4. Types of Infrastructure Needed?
(a) OCR+ Acquisition Technology
(b) I/O, Display Technology
(c) "Interlingual" Tools
5. Commercial World Benefits?
(a) Doesn't the Commercial World always benefit?
(b) ...but should the Government care? Shouldn't MT address specific needs of Gov.?
(c) ...and are the needs of research and product different from commercial?
6. Government Special Needs
(a) Does Application precede capability?
(b) Often Government needs are so narrow or specialized a commercial market can't exist
(c) Difference between multi-government user and localized software users.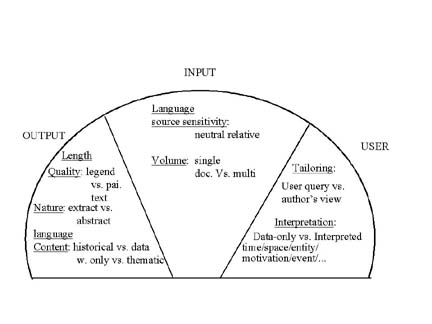 ---
Summarization Report
Good attendance (75 folks)
We should do fun stuff first to generate interest
How should we get output from system
Sources of info for summary
"simple summary firm single document" how?
working to single from many
Users want different things from summary
Lexis-Nexis - need specific, unique summaries for certain users
milestones:
keywords
identify main point (currently available)
sets of documents summarized (in + 3 years)
summarize events/activities (in +5 years)
summarize/create a view point
Types of systems (components which have to share to make this work)
Swap/Share modules
What have we done?
Good progress
2 years ago - not much work
Now basic summary is easier
In 3 years user profiles should be available
In 4 years lexical/semantic
Description of dry run for Summarization
Dry run pointed out what can be controlled
Some cross-doc evaluation

Types of Functions (Users)
1. News browser - intelligence analyst
indicative, incomplete
query-sensitive
somewhat domain/genre-specific
2. Legal specialist - Lexis-Nexis
precise, complete
styles: "abstract", "head note"
very genre-specific
3. Financial analysts - numerical
include figures, tables
somewhat genre-specific
user-tailoring
4. IR/VRT engine

Milestone Systems
Milestone 0: Main keywords (DONE)
Milestone 1: Identify and present main points of (set of) newspaper like documents (TODAY)
Milestone 2: Summarize a set of documents, identifying the main themes. User query on object, entity, possible event (+ 3 years)
Milestone 3: Summarize events or activities of object, process, event, location, timeline, ... for set of documents. (+5 years)
Milestone X: Summarize argument of new point, create new point

Function/Technologies
1. Maximum marginal relevance engine
Now: Limited capability
Need: document decompression and clustering, knowledge base, R.A. structure, semantic analysis
2. Coreference engine
Now: limited, but useful
Need: temporal model, Word Sense disambiguation
3. NP Level Summarization
Now: working
Need: Word Sense disambiguation
4. Topic ID
Now: preliminary like MS
Need: Word Sense disambiguation, statistical association, knowledge base, genre recognizers
5 Term expansion
Now: limited, but useful - quality too low
Need: semantics
6. User profiling
Now: almost nothing
Need: user studies
7. Script/frame/pattern
Now: very little
Need: theory, definition, matching, learn collections, knowledge base
Status of Technology
T-2 years:
hardly anything, commercial or government
simple Topic ID by MS
some by initial research
T:
could assemble "level 1" engine from [MMR and coreference, Topic ID & NP]
assembly of systems: open problem
T + 3 years:
assemble "level 2" engine [MMR+ coreference + Topic ID & NP & User]
start research (seriously) on user profiling and script/patterns on large scale
need lexical semantics! multi-lingual, "deeper" WordNet
T+6 years (?):
---
Human/Computer Interface Report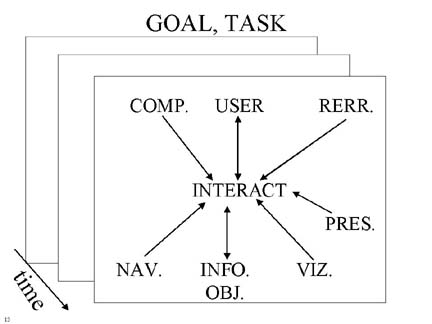 The Task
What led the person to engage in information interaction
Comparison
Representation
Presentation
Visualization
Navigation
User
Long Term and current goals and tasks
Knowledge
Previous experience
Interaction
Evaluation
Selection
Recognition
Use
Information Objects
People involved in information creation and use
problem/task seldom "IR"
support richer variety of interaction
useful paradigms and combination
interfaces matter and can be studied
+5 years only interactive tree
+10 years 7+2 modes of interaction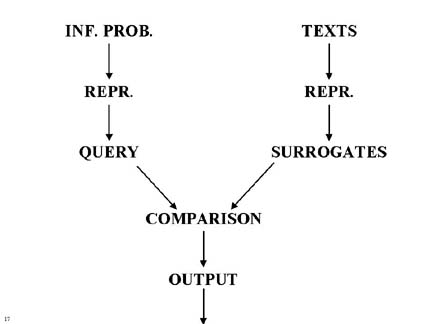 Future.
Long term studies
Research in under lying phenomena
Test beds for experimental and comparative studies